10 Google Ads Easter Eggs You Should Know About


Easter is just around the corner, and we're already saving space in our stomachs for the chocoholic event. However, while we may have heart eyes for Cadbury eggs, we can't lose sight of our Google Ads.


Our Klypsters have put together a list of Google Ads easter eggs hidden throughout the platform that offers more insight, better results and open up for more strategic optimisation.
1. Auction Insights
We get very little information on our competitors but the Auction Insights report is an underutilised tool that can give you insight into where you sit against your competitors on the keywords you advertise on. It also tells you a few other interesting stats about your competitiveness.
You can find this report at the top of the Campaign menu, next to the campaign title.

2. Click Share Column
The Click Share column gives you insight into what percentage of the potential clicks you are receiving. This is helpful to understand if you are reaching your full potential within a campaign and should expand your strategy, or if you are lacking and need to optimise.
This column can be found in the Columns section, by clicking Modify Columns and looking under the heading Competitive Metrics.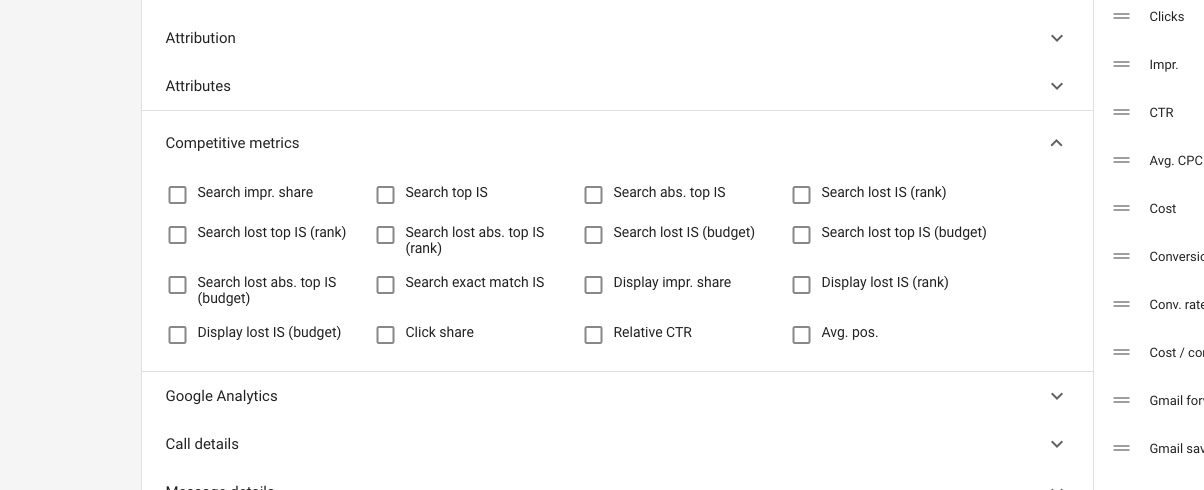 3. Display Ad - View Asset Details
This is a hidden little trick, often skipped past, that allows you to better understand your dynamic display ads. It breaks down all the elements of your dynamic display ads into individual pieces and after collecting enough data, will rank their performance with classifications such as 'good' or 'bad'. This gives you the opportunity to understand what your audience does and doesn't like to see and will help to optimise your dynamic ads effectively.
This can be found in the Ads & Extensions section under any of the text of your ads. It appears as the blue text that says View Asset Details.

4. Combinations
Demographic data is important when refining your Google Ads, and the combinations report gives you the opportunity to paint a better picture of the specific type of people who engage with your ads. This tool shows you how certain demographic combinations are performing. For example; isolating data on females, aged 18-24, that are not parents & are in the 11-20% income bracket will help you to see their clicks, conversions and more as a combination demographic.
This can be found in the top bar of the Demographic menu. However, it is hidden in the 'More' dropdown as the second option.

5. Customer List Remarketing
Every digital marketer loves remarketing, but there is another type that not everyone knows about because it is hidden away. Customer List Remarketing allows you to upload customer emails and remarket directly to them. This is naturally very helpful to create a highly-targeted and engaging remarketing campaign. The bad news is that it does have eligibility requirements and is not available to everyone just yet.
If and when you have access to this feature, it can be found in the Tools menu in the top right, in the Audience Manager under the Shared Library. Just create a new audience by clicking the Blue + button and select Customer List.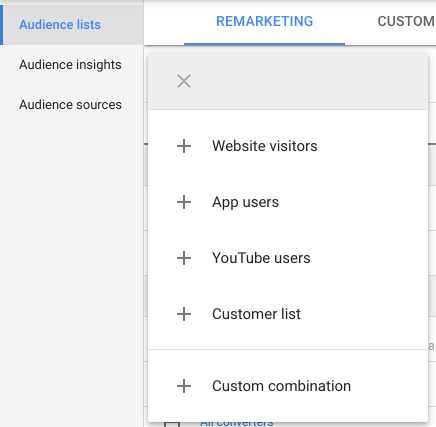 6. New Features & Announcements HQ
Things are being updated and changed all the time on Google Ads, and if you don't keep up you fall behind. Staying up-to-date and refining your skills is super important to get your clients or campaigns the best results. There is a direct link from Google Ads that takes you straight to a collection of the latest updates and announcements related to the platform.
You can find this by going to the ? in the top right and clicking New Features & Announcements.
7. Click Type Segment
This little trick can help provide more insight for you when performing an analysis. If you have your Google My Business address attached (which you should, but if not - learn how to set it up here), you can use the Click Type segment to see if people are actually clicking the address to find directions. This is a form of conversion, so it is helpful to know. This segment can also help you see how specific campaigns, ad groups and keywords are going at generating mobile clicks-to-call (if you have this set up).
This can be found in the Segments section drop-down and is the third option.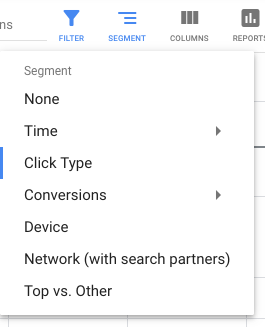 8. All Conv. Value / Cost Column
A great way to get a simple picture of your overall ROI is to use the All Conv. Value / Cost column. This column shows you how much you are getting back for every dollar that you put into the account.
You can find this in the Columns menu, by clicking Modify Columns, and looking for it under the Conversions section.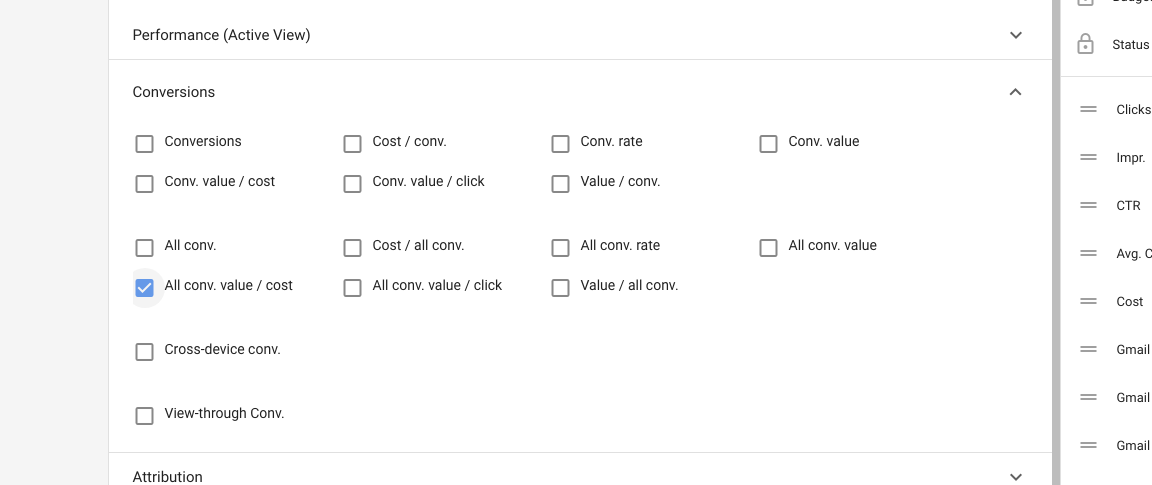 9. Video Ad Analytics Menu
This little hidden menu offers some wonderful insight if you are running video ads. This tool can show you a graph indicating the time-watched percentage, and a few other helpful stats. You are also able to mark certain 'Moments' in the video that you would like to know if people reach. This menu offers your best insight into your videos.
It can be found by going to the Video menu in the sidebar and clicking the title of one of your video ads.

10. Location Settings - Show All Areas
We're all familiar with location settings, and occasionally familiar with how time-consuming setting it up can be for particular client or campaign requirements. With this little hidden trick, you might just save yourself a bunch of time! When you are setting up location settings you can turn on Show All Areas and Google Ads will show you all of the potential areas on the map. From there, you can just click them and select target, rather than manually typing them in (phew!).
You can find this feature by going to Settings, Location Settings, select Custom, and in the top right of the map you can turn on Show All Areas.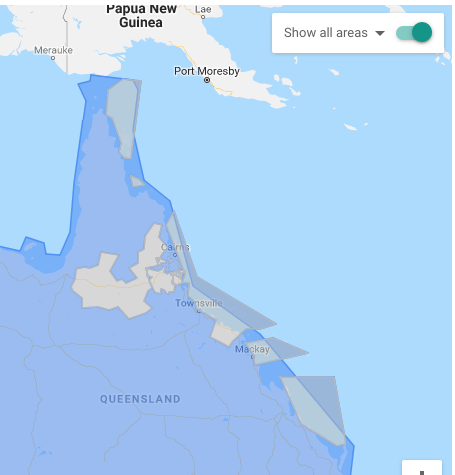 Google Ads has many little tricks hidden throughout that can add value or make your life easier, you just have to spend the time to dig and try out new things. These are just a few of our favourites, so have a play around and find a place for them in your day-to-day.


Enjoy our Easter eggs and have a Happy Easter!