7 New & Upcoming Google Ads Updates You Should Know About
The new year has arrived and looking back over 2018, us Google advertisers experienced some pretty big updates to our beloved digital marketing platform.
To start with, we're all still recovering from the day that Google forced us onto the new interface, and most recently, remembering to say 'Google Ads' instead of 'Google Adwords' is a challenge. However, these changes were definitely for the better. Beyond that, we had some pretty great advancements, such as, Smart Shopping, Responsive Search Ads & audience/demographic targeting for Search ads.
Coming off the back of this big year, our Klypsters are eagerly awaiting what Google has in store for 2019. While we have many predictions, we have put together a list of the new or upcoming changes we expect will start 2019 off with a bang.
1. TrueView For Reach & Action
Google released two innovations for Youtube video ads in the latter half of 2018 that we're going to be seeing a lot more of this year.
TrueView For Reach will allow users to achieve greater awareness by utilising targeting focused on optimising towards impression-based buying.
TrueView For Action is something we have already started to see. It allows advertisers to add a call-to-action (CTA) extension to their YouTube ads, making it easier for the consumer to find their way to a product or service and convert.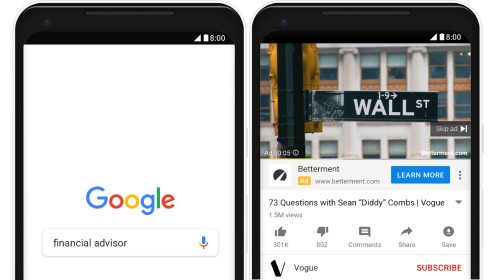 (Source: Google)
2. Youtube Leads Ads
Youtube has historically been utilised as a tool to build awareness, and has not really been used as a means to generate conversions. Youtube Lead Ads have been announced but not yet released, and surprisingly have not had much publicity yet on the market.
Just like Facebook Lead Ads, you will be able to have a form within the video ad. However, given that Google is able to target consumers with high intent to convert, this is likely to create a powerful, targeted and action-focused ad that performs on a whole new level we haven't yet seen from lead ads.
3. Cross-device Reporting
This feature is actually not brand new, in fact, it was released mid-last year. However, it is one not everyone is aware of. It has become very important to understand the entire digital user journey to purchase, so that advertisers can deliver relevant and contextual ads to the right people, at the right time.
This feature is found on Google Analytics and will allow you to make connections between data collected on different devices that previously may have seemed unimportant. Relationships between certain pieces of data aregoing to help create a bigger picture to develop more effective advertising.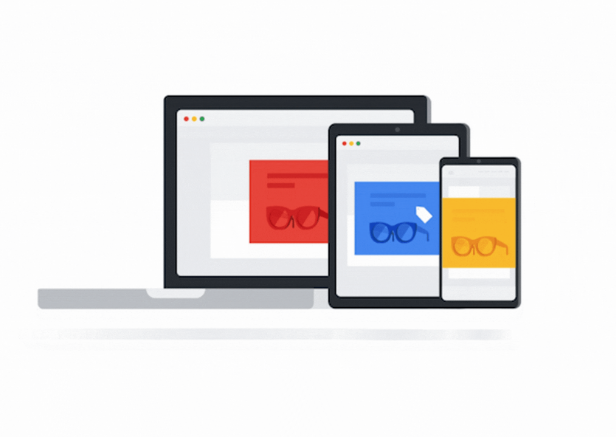 (Source: Google)
4. Auto Optimised Landing Pages
In Google's 2018 Innovation Keynote, they briefly spoke about how they were testing a feature called 'Auto Optimised Landing Pages'.
This feature will use business' details and relevant information to dynamically create landing pages that are optimised to the individual consumer who is clicking the ad. AI-powered tools have been massive for Google in 2018, and this is another that might change the game for user experience.
5. Responsive Search Ads
Ad updates are happening all the time on Google Ads, and it is important to stay up-to-date. Responsive Search Ads were released later last year and if you aren't already using them, now is the time. In 2019, as advertisers strive to create more personalised & relevant content, more people will be adopting Responsive Search Ads into their strategy.
With the ability to have up-to four descriptions, fifteen headlines and the use of Google's AI, Google will craft the perfect ad from the best combination of ad text for each user. Over time, this provides advertisers with highly-optimised ads and valuable data to use when creating new content.
6. Video Sequencing
This feature has been in Beta since mid-last year but as of November became available worldwide. The Youtube Video Sequencing feature gives advertisers the ability to create a sequence of video ads to tell a greater story, through multiple videos, to a single user. Certain combinations of ads may result in different outcomes (like higher awareness or purchase) so understanding and capitalising on this is important.
Additionally, you can present a single user with content based on their behaviour. For example, 20th Century Fox used Video Sequencing for The Greatest Showman, presenting a single user with a follow up ad. If the user skipped the ad they got a mini trailer as a follow up, but if they watched the ad they received a longer ad including behind-the-scenes footage.
7. Local Campaigns
This feature was actually released towards the end of last year, and you might already be using it if you have a location extension set up.
Local Campaigns allow you to advertise your business in the maps section when someone searches for something 'near me', or if they are searching within Google Maps. Advertisers now have another opportunity to appear when the intent to convert is high. So if you're one of the few who don't have your location extension set up yet, you should.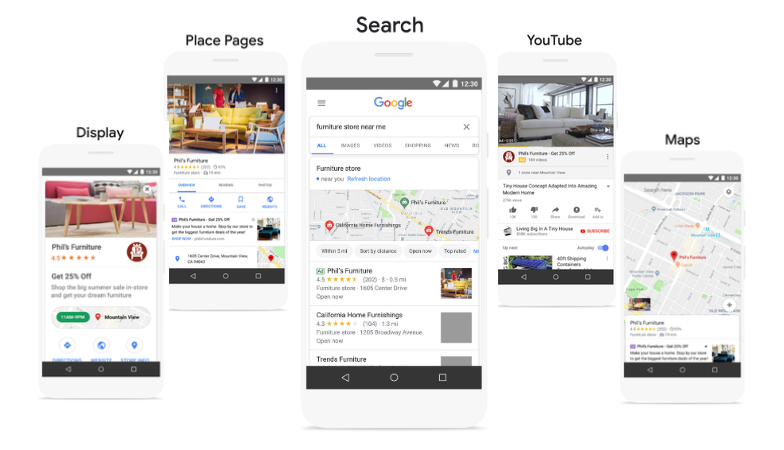 (Source: Google)
2019 looks like it is going to be heading in two major directions - video advertising and more AI-powered features. Digital advertising is only getting smarter, and as it does Google continues to reinvent old platforms in new ways to get us closer to the consumer. From what we have learned in 2018 and what we expect to take off this year, it is already looking to be a big one for digital marketers. So keep an eye out for exciting updates to stay competitive in 2019.
Keen for more information or some help staying on top of your search engine marketing? Drop us a line or shoot our Brisbane, Sydney or Melbourne team a message!